Childcare
Babies and Toddlers at QUUF Sunday Services
Babies in Childcare: When babies are old enough to separate from their parent we will happily care for them in the childcare room. Please let us know where you are sitting in the sanctuary, so we can come get you if your child is not comfortable.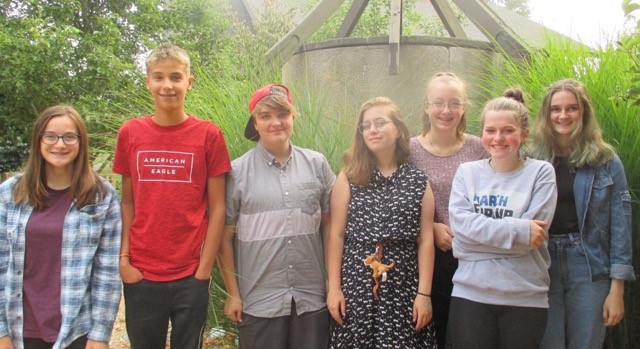 2018-2019 Childcare Team
Toddlers in Childcare: Whenever your child is comfortable in the childcare room, we encourage you to head to the sanctuary. We will come get you if your child becomes upset. If your child needs you in the childcare room, please ask us to bring you a headset and you may listen to the service while your child plays.
Babies in Sanctuary: We understand that you may want your baby with you. This is fine. However, we do have congregants who are hard of hearing, so even delightful baby noises can be distracting to someone needing to concentrate. It is difficult to gauge where the boundaries are. For everyone's comfort we offer headsets that can be used in various places outside the sanctuary.
Headsets: Outside the middle doors of the sanctuary are headsets for your use. You can go in the office (opposite the sanctuary), where there is a basket of toys for your baby. You may also use the Fellowship Hall, which is to the right in the foyer.  You may also come to the RE building. Crying babies in the office, foyer or foyer bathrooms can be heard easily in the sanctuary, so best come to the RE building.
Suggestions about how to make it easier to have your baby at QUUF are always appreciated. Please contact Beau Ohlgren if you have any questions.
Providing childcare for church committee meetings and events is one of our statements of inclusion. We want families to feel welcome and accommodated. If we are hosting something after school hours, we offer childcare.