6:00 pm - 8:00 pm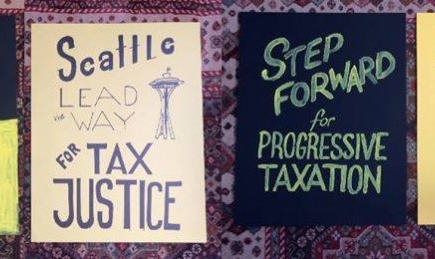 Join Tax Equity Port Townsend and QUUF's Social Justice Council on Thursday, January 25 at 6pm to discuss why now is the time for Port Townsend to stand up for a morally just tax system.
Washington state's current tax structure, the most regressive of any state in the country, requires low income households to pay more than their fair share in state and local taxes – up to seven times more of their income than the top twenty percent. Last July, Seattle City Council, backed by a coalition of over 40 social justice, environmental, labor and religious groups, voted to pass a tax on those with incomes over $250 thousand a year. An income tax on the very wealthy will allow us to fund necessary social and environmental programs without making the poor and middle class pay more. It also protects against the recently passed Federal tax roll-backs.
Katie Wilson from the Transit Riders Union, who led Seattle's coalition to victory, joins a panel to talk about what Port Townsend can do to champion a tax structure that strengthens community, resiliency and equity.
Panel speakers will be followed by a group discussion on strategies to meet local unfunded needs (e.g. affordable housing) through progressive taxation.
Childcare provided upon request. Email vikis@ecopraxis.org by Monday, January 22nd.