7:00 pm - 9:00 pm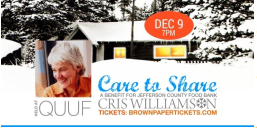 Holidays are always better if there is music at the heart of it all. This Cris Williamson Benefit Holiday Concert – all heart, all music – features original reflections upon this Season; hung like lights so bright, so familiar are some traditional pieces associated with these winter festivities, songs from yesteryear, as well as more modern and lyrical songs from yesterday and today. Also in the mix will be songs from Cris's new album, Motherland, along with old favorites from albums past.
No matter what holiday you celebrate, please join us on Saturday, December 9, 2017, as we listen together to the heartbeat of winter. Gather with us now as the dark days of winter approach the coming Light. And share the true meaning of the holidays knowing that monies raised go to support the Jefferson County Food Bank. Come share in music, generosity, and community.
This event is sponsored by QUUF's Music Program Committee. If you'd like to assist the Committee with presenting this event, please contact Abby Kimball. More information on Cris Williamson is available at CrisWilliamson.com.
Get tickets at Brown Paper Tickets for $25 plus a service fee. Or get tickets at the door.
Last year her concert sold out and it encouraged her to return. Join us and let Cris know she has an audience right here in Port Townsend that values her voice, her message, and her spirit.