Pathways to Service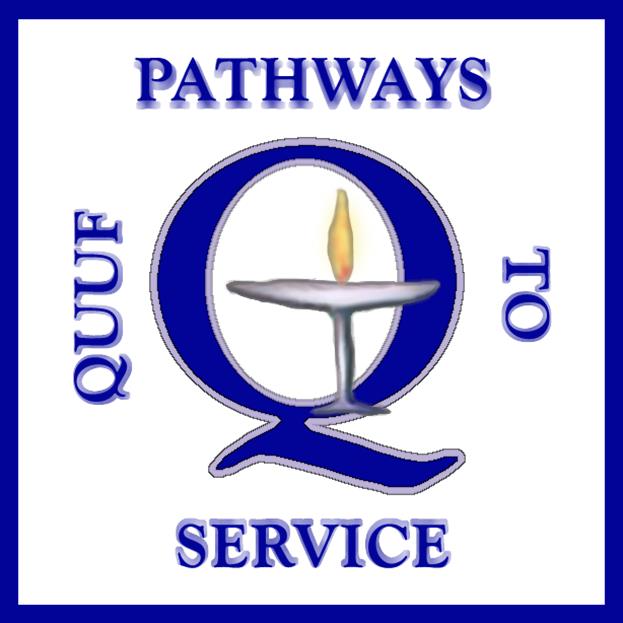 What is Pathways to Service?
Pathways is a program that enables members to pursue their passion, further their skills, and deepen their connections through service at QUUF.
Service can be a spiritual practice, as you open your heart, apply your intelligence, and offer your energies to something you value that is larger than yourself.
Our vision is that the members of QUUF are vital, fully empowered partners in this fellowship's ministry.
Click on the arrow below to view a short video about how Pathways to Service works at QUUF.

How Pathways to Service Works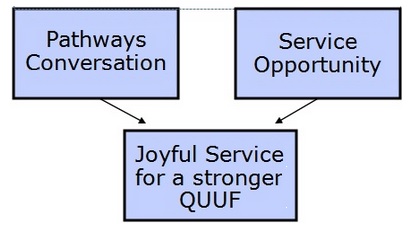 Conversations: To offer service opportunities that feed your passions, we first need to know where our members' passions lie. Our goal is to learn about your spiritual journey as well as your passions and skills through one-on-one conversations. A Conversation Team Member will invite you, or you can request a Pathways Conversation.
Service Opportunities: So that you will have a clear picture of what a service opportunity involves, descriptions of all opportunities are available for viewing through a link on the Pathways Web Page.
Matching: The Pathways Team will meet regularly to match members to Service Opportunities. Matching will be done with the goal of feeding member's passions and nurturing their spirit as well as finding appropriate people to fill volunteer and leadership roles.
How to Get Involved
3. Browse the list of Filled Service Opportunities for ideas on future ways to serve.
4. Fill out an online form to Add a service opportunity. (It will go to the Pathways Team for posting on the website.)
5.  Questions? Contact the Pathways to Service Team at pathways@quuf.org.
---

Statement of Theological Grounding
At QUUF we covenant to love, to share, to serve. Through service and shared leadership, we empower one another, nourish our souls, deepen our connections, and enable QUUF to continue to be a living force for good in the world. Thus we create a just and joyful place.
Pathways to Service is modeled on a successful program developed at the Unitarian Universalist Church of Delaware County in Pennsylvania. We are most grateful for their support in helping us bring this program to QUUF.
Pathways to Service Team
Team Leaders: Kendra Golden, Carolyn Latteier, Margaret Schonfield, Liesl Slabaugh,
Conversation Team: Khirit Bhansali, Jane Berry, Bob Bevins, David Bommer, Pam Clise, Barb Dyer, Donna Frostholm, Deb Hammond, Kate Madson, Beth Pope, Rod Mitchell, Bernie Stechman, and Terri Teas
Service Opportunities Specialists: Hilda Anderson, Pam Clise, Dick Conway, David Covert, Jim Daly, Barb Dyer, Sharon Schlentner
Creative Help: Norma Fried, Pat Rodgers, Lloyd Westbrook