Native Peoples Connections
Native Peoples Connections is an Action Group (NPCAG) under the Social Justice Council.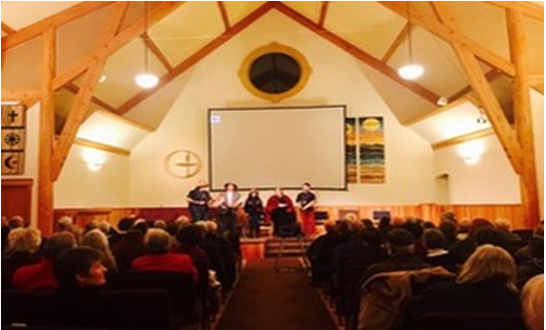 Hiyu Masi (Many Thanks) to the hundred or so hearty people (see photo above) who came out in the cold on November 4, to view Promised Land, a documentary about the Duwamish Tribe and Chinook Nation and their effort to become federally recognized. Vasant and Sarah Salcedo were so surprised when they learned that Chief Seattle's tribe wasn't federally recognized, that they were spurred on to create a documentary film on the topic. In the process of doing their research, they learned that an equally important tribe in the history of the Pacific Northwest, the Chinook Nation, was also not federally recognized, although they signed the Tansy Point Treaty in 1851 and have been treated as if they were recognized in many ways.
After the showing, a panel of tribal members and a representative from Tall Firs Cinema answered questions. The panel included Jane Wekell Pulliam of the Chinook Tribal Council, Sam Robinson of the Chinook Tribal Council, Jo Blair (a member of the Chinook Nation), Aaron Jones (a member of the Chinook Nation), Ken Workman (a member of the Duwamish Tribe), and Claire Salcedo (Associate Producer of Promised Land). Currently the film is not in wide distribution, but you can find it playing at Churches, Community Theaters, Historical Societies and Colleges in the region.  
The tribes appreciated your donations to their legal funds.  If you missed the event and want to donate, their websites are: Chinook Nation and Duwamish Tribe.
We are planning to begin reading Salmon Without Rivers, A History of the Pacific Salmon Crisis beginning this month. "The book is a must read for anyone who wants to understand the root causes of the Pacific Northwest salmon crises and the tough choices citizens of the Pacific Northwest face in deciding the fate of these once abundant icons." – John A. Kitzhaber, MD, former Governor of Oregon.
We plan to invite local experts to our meetings and host a special event near March 9 to honor Billy Frank, Jr.  It's not too late to join us.  We will decide on the meeting dates and place at the next Native Connections Action Group meeting:
Native Connections Action Group Meeting – Tuesday, Nov. 14, 10am-noon in RE 2-3 at QUUF. If you are interested in knowing what we are doing regarding the Pleasant Harbor Master Planned Resort, Saving the Salish Sea, future field trips and other initiatives, please attend our meeting. 
Community Events
✔ Wed, Nov. 15, 5-7pm – Klallam Language Study Group led by Phaedra Hope.  Meet in the Charles Pink House, next to the Port Townsend Library.  Following meetings are December 20, January 17, and February 14)
Join Phaedra Hope for a Klallam Language Study Group for nontribal members. Phaedra was given permission from her elder at the language department at the Lower Elwha Klallam Tribe to lead this group to preserve the language. The group will have access to free materials from the language department including YouTube videos of native and youth speakers. Phaedra was also given a Klallam Dictionary and Grammar book that she will share as a reference during study time.To encourage families to attend, native art puppets and children's stories will be included.
✔ Thurs, Nov. 16, 5-7pm – Jamestown Seafood Aquaculture Program led by tribal chair Kurt Grinnell, Jamestown S'Klallam Tribal Chair.  At NW Maritime Center, 431 Water St., Port Townsend.
Kurt Grinnell will present a program on Jamestown Seafood's aquaculture program as well as the broad scope of the Tribes Natural Resource programs and long-term goals. Kurt was elected to the Jamestown S'Klallam Tribal Council in 2004 and is the driving force behind Jamestown Seafood. He has served on the Hunting and Fishing Committee for 33 years, and currently serves as Tribal Policy Liaison for the Tribe's Natural Resources Department. In 1981 he became a gillnet fisher, and then began attending fin-fish negotiation meetings with the Makah and Point Elliot Treaty Tribes. In the early 90s he served as Indian Child Welfare Case Worker, Chemical Dependency Counselor, and Social Worker.  Since that time he has also served the Tribe in the areas of education, housing, and culture. In 1995, he became a commercial geoduck diver.
✔ Thurs, Nov. 30, 7-8:30pm – Upstream: Searching for Wild Salmon, from River to Table led by Langdon Cook. At Port Townsend Public Library, Carnegie Reading Room.
✔ Mon, Dec. 4, 3:30-5pm – Shadows of our Ancestors:  Readings in the History of Klallam-White Relations, edited by Jerry Gorsline. The Jefferson Land Trust Natural History Society Book Club will meet in the Charles Pink House, next to the Port Townsend Library.
Resources
To stay abreast of local events and tribal events open to the general public, resources include:
For more details about local Tribal news and events check these websites:
Jamestown S'Klallam Tribe
Lower Elwha Klallam Tribe
Port Gamble S'Klallam Tribe
Suquamish Tribe
Makah Tribe
Quileute Tribe
Quinault Indian Nation
Lummi Nation
Last updated October 7, 2017