Native Peoples Connections
Native Peoples Connections is an Action Group (NPCAG) under the Social Justice Council.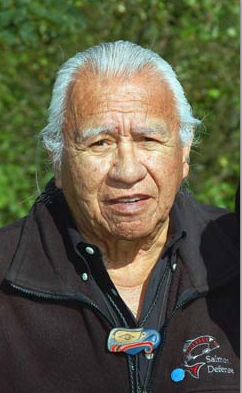 December 2017 Native Peoples Connections News
In November, Native Connections Action Group members met with representatives of the Port Gamble S'Klallam Tribe to discuss the Master Planned Resort at Black Point to gain a better understanding of their concerns and request permission to continue our opposition to the current size and infrastructure plans for the resort because we want to support them in their assertion that it will have a detrimental effect of the area, especially the water quality of the Hood Canal.  We were assured that they approve of our actions and personal statements regarding the MPR. Representatives of the of the PGST plan to attend the January 9 meeting of NCAG to discuss the issues further.
Check The Brinnon Group website to keep up with the progress of the MPR at Black Point.Minutes from the November 3, 2017 meeting held between the representatives of the Skokomish Tribe and Commissioner, David Sullivan, Patty Charnas, Community Development Director and Michelle Farfan, Project Lead, from Jefferson County are included.  I suggest that you read them for yourself, but in general the minutes state that the Skokomish Tribe is upset that the Port Gamble S'Klallam Tribe claims culturally significant history in the area.  The Skokomish Tribe is recognized as having primacy by the Navy in the Hood Canal.  This affects how any federal permit, fund, license or grant may be required to conduct tribal consultations in the future.
The differences of opinion between the Skokomish and Port Gamble S'Klallam tribes, are out of our hands, but we can focus on the environmental justice issue by educating ourselves, sharing what we learn with community groups, writing letters to the editor and attending government and environmental group meetings, including the Jefferson County BOCC Monday morning and County Comprehensive Plan meeting December 20 at 5:30 pm at the Tri Area Center.
Example of Chinookan Art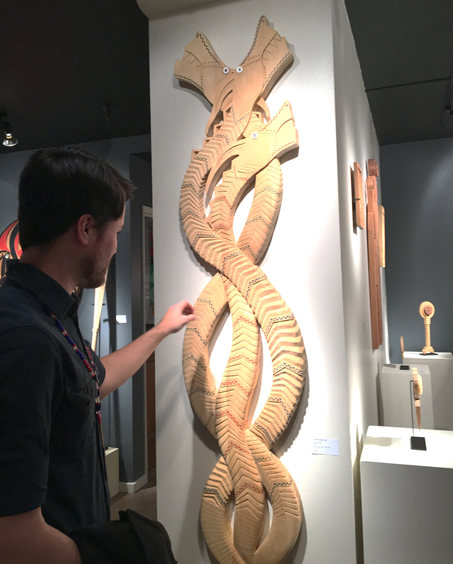 Many of you are familiar with Coast Salish carving exemplified by the skillfully carved Totem Poles in Blyn at the Jamestown S'Klallam Tribal Center and 7 Cedars Casino. There are other forms of Northwest Native carving including the Chinookan style, originating along the lower Columbia River, currently on display at the Steinebrueck Gallery in Seattle. Greg Robinson is a member of Jo Blair's tribe, the Chinook Indian Nation and is one of the only people she knows of currently carving at this level of mastery. If you're near the Pike Place Market, the gallery is a block north on Western Avenue.
Seeking Native Peoples Connections News Editor
Reverend Florence Caplow started publishing the Native Connections News, and Jo Blair took it over 2-1/2 years ago. Since then she has been passing along news of local Native and environmental justice issues and events. Each year in the fall she reevaluates her commitments and has now decided she needs help with the newsletter because the Native Connections Action Group's activities have broadened in scope.
Hopefully someone will want to step in to learn the ropes. We have a technology resource person who will help set up the newsletter program that manages the mailing list. Please contact Jo Blair at 360-385-5999 if you are interested.
If no one steps forward to edit the newsletter, beginning in January, Jo will forward information she receives that focuses on local issues to the Native Connections News mailing list. You can subscribe to newsletters, scan the Peninsula Daily News and Port Townsend Leader and check the websites listed below if you want to keep abreast of Native news independently.
QUUF Events
✔ Wed, Jan. 3, 7-9 pm – Salmon Without Rivers Group Read and Discussion, Chapters 5-6, RE 2-3 at QUUF.
✔ Tues, Jan. 9, 10am-noon – Native Connections Action Group Meeting, RE 2-3 at QUUF. Guests: Port Gamble S'Klallam Tribal Representatives discuss Pleasant Harbor Master Planned Resort. We meet the second Tuesday of most months. Please contact Jo Blair at 360-385-5999 if you have questions.
✔ Fri, Mar. 9, 7-9 pm – Billy Frank Jr. Day. Speaker details in January.
Community Events
✔ Wed, Dec. 20, 5:30pm – County Comprehensive Plan meeting at the Tri-Area Center.
✔ Wed, Dec. 20, 5-7pm (also Jan. 17 and Feb. 14) – Klallam Language Study Group, in the Charles Pink House next to the Port Townsend Library, 1256 Lawrence Street. Join Phaedra Hope for a Klallam Language Study Group for nontribal members. Phaedra was given permission from her elder at the language department at the Lower Elwha Klallam Tribe to lead this group to preserve the language. The group will have access to free materials from the language department including YouTube videos of native and youth speakers. Phaedra was also given a Klallam Dictionary and Grammar book that she will share as a reference during study time. Native art puppets and children's stories will be included to encourage families to attend. Sponsored by Lower Elwha Klallam Tribe.
Resources
To stay abreast of local events and tribal events open to the general public, resources include:
For more details about local Tribal news and events check these websites:
Jamestown S'Klallam Tribe
Lower Elwha Klallam Tribe
Port Gamble S'Klallam Tribe
Suquamish Tribe
Makah Tribe
Quileute Tribe
Quinault Indian Nation
Lummi Nation
Last updated December 20, 2017